Since I didn't actually come home from Debconf, but instead took a further week's holiday and lazed around by the beach, I haven't sat down to write anything about it yet.
Most importantly, I should say thank you to Joey Hess, Steve McIntyre and Stefano Zacchiroli for arranging the Debconf Newbies programme, without which I would have been stuck at work watching the videos again (though this does have the advantage of seeing three talks at once). Every year I am astounded at the generosity of certain companies who sponsor the conference, since I've experienced for myself the difficulty of trying to put a corporate price on free software – even more so to specifically sponsor newbies, who by definition probably aren't as active in ways that interest sponsors than more established developers.
Right up to the day I flew I was nervous (as in any social situation) at meeting so many new people in one go, on my own, and long way from home – after all, it's not really easy to back out and go home after that… But in fact, everybody I met was warm and friendly, and very supportive in all sorts of ways.
I got to see and hear many talks; in the first two days alone:
Supporting Debian machines for friends and family
Debian at a large Dutch university
Why is GNU/Linux Like a Player Piano?
Bits from the DPL
Packaging Python modules and applications
The Unity desktop environment
Collaboration between Debian and Ubuntu
And of course social events, like Cheese and Wine, Keysigning (handy for putting faces to names), many nights in the third hacklab, a day trip to Coney Island, a privileged viewing of the most nerdy organ in the world, and a trip up the Empire State building: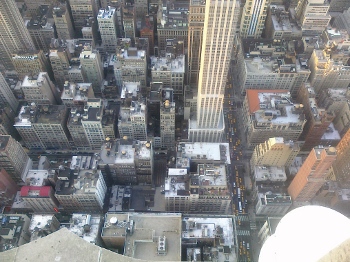 The campus was ideally suited to such a conference, and apart from the mugginess we had excellent weather. I discovered that I rather enjoy watching baseball and that one should repeat the application of sunblock after paddling. But what I enjoyed most of all was being in the same area as so many eminent Debian people, and being so inspired by them to be even more involved – technically and socially. I hope to see you all again soon!