I'm finally paying up a certain amount of household technical debt, including investigating some exciting mystery cabling and insulating the space it inhabits. This has meant pulling down large chunks of ceiling (eventually, most or all of it for the insulation) on a cable hunt.
Turns out the best tool for this part of the job is a decent length of 4 by 2, some borrowed muscle, and a certain amount of bravery. Once a couple of holes have been cut the old-fashioned way to be sure there's nothing crucial above the ceiling (like the other side of the felt roof), the 4×2 really comes into its own:
To use the 4×2, aim for a gap between two joists and imagine you're holding a caber. Launch it. The ceiling will come off far worse than the lump of wood you're holding.
We found the mystery cable, but didn't really solve the mystery it creates and in the process uncovered another bizarre installation. The local lighting circuit is mostly a spur system in that white junction box by the RSJ. The overhead supplies dive under the RSJ through the junction box to the light switch including a full 3-core feed, not the usual loop-in system used in the rest of the house (I am not sure how prevalent loop-in systems are in other countries, they're sometimes called three-plate systems – but they're very common in the UK).
It does at least explain why I could never reverse-engineer the setup from the ceiling roses alone, which had only half the cores in the fitting than expected throughout the room (it wasn't even that the first fitting was looped in and being a supply for the others).
On the other hand, normalising everything to a loop-in system and removing that awful rats nest of TPE should be straightforward. Neutral isn't required in that switch so that's one less problem.
I couldn't resist labelling the switch in its relocated position: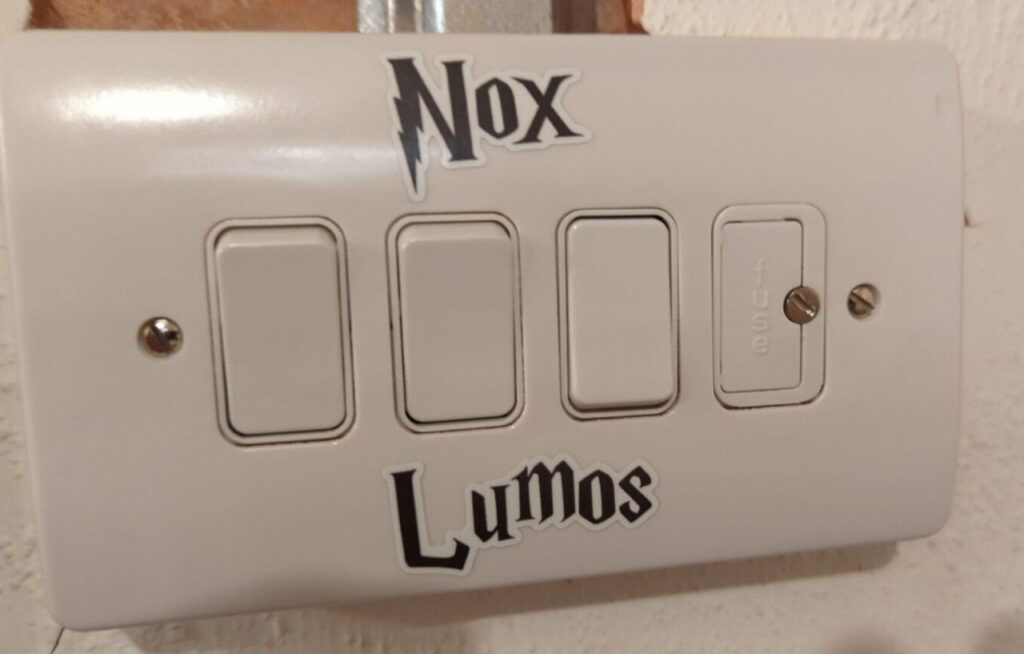 Unfortunately, as valuable as that exercise was, I still have to get to the bottom of the original mystery cable which is at varying points 6mm2, 2.5mm2 and 1.5mm2 with apparently no current limiter or switch separation. Time for a bit more 4 by 2…